LUXURY SUITES
---
MAKING YOUR MEMORIES THE ULTIMATE ENTERTAINMENT EXPERIENCE
Ownership of a Covelli Centre suite makes luxury a right, not an option, and promises unforgettable entertainment opportunities locally. Entertaining clients, rewarding employees, and enjoying the company of colleagues has never been easier with the biggest events happening in close proximity to your own back yard! Forge new business relationships or strengthen existing ones with the ultimate entertainment experience that is exclusive to suite owners, with VIP Parking in The Sweeney Chevrolet Parking Lot, admittance through the Refresh Dental VIP Entrance, access to the Huntington Bank VIP Lounge, custom food and beverage service and private restrooms.
Whether used for professional or personal functions, a luxury suite at the Covelli Centre provides countless and unique opportunities to provide clients, colleagues, friends and family members with memories of the ultimate entertainment experience. Luxury suites are available on multi-year or single-event basis.
View suite menu
Luxury suite benefits include:
In-suite food, beverage and catering service
A personal wet bar and refrigerator
Plush furniture, including a love seat, chair and coffee table
Large leather seats with cup holders.
Access to meeting and conference space
Corporate Logo and name featured on suite nameplate
Exclusive access to the Huntington Bank VIP Lounge
Access to private telephone service
Theater-style seating
Access to VIP parking in the Sweeney Chevrolet Parking Lot
Private restrooms
Priority option to purchase tickets to all Covelli Centre events
Priority option to purchase additional in-arena tickets
First priority for the purchase of playoff game tickets (season only)
MORE INFORMATION:
Contact Jordan Ryan, Director of Sales – 330-746-5265 or Jryan@jacmg.com
Featured Event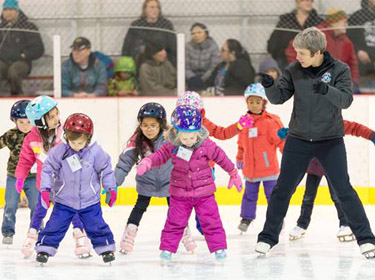 KIDSKATE! CLASSES FOR ALL AGES!
Multiple events - October 19th - April 26th
more info